Community Sponsorship Awards 2018
Nominations for the awards were launched on 7th May 2018, at the Migrants Mass . It was a delight to receive so many inspiring examples of sponsorship from across the UK. We want to extend our heartfelt thanks to all those who took time to nominate their heroines and heroes of Community Sponsorship of Refugees.
Your nominations were considered at the House of Lords by our diverse panel of judges , which featured humanitarians, a politician, a writer and a bishop. With over 150 nominations, they had a very a tough decision to make!
The Ceremony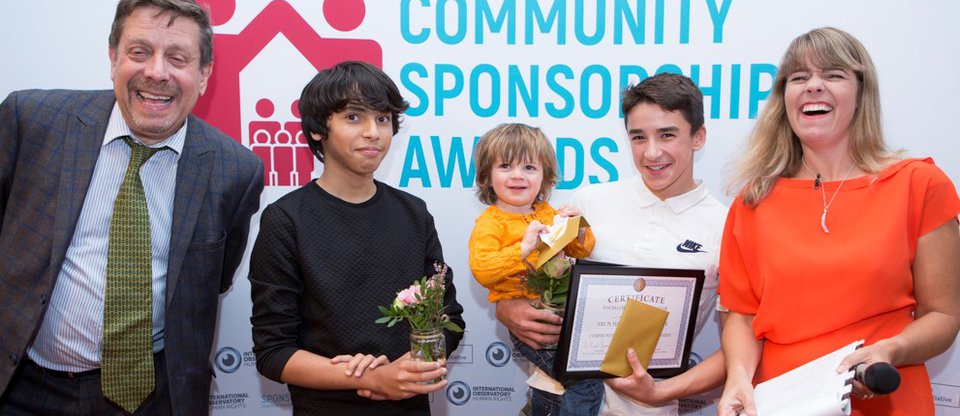 The First Annual Community Sponsorship Awards Ceremony took place on 2 nd October 2018 at The Royal Society, London, in the presence of more than 250 people who gathered from across the United Kingdom and North America.
The ceremony was presented by BBC World Service and Radio 4 journalist, Claudia Hammond, who participates in her own community sponsorship group in Peckham.
We were delighted to be joined by very special guests from Canada , who have been such an inspiration to the community sponsorship community.
The young and not so young were among those commended at this glittering occasion. The stories of brothers Arun and Jasso , and of Frank McNamara MBE , show whatever age you are, you can play a big part in sponsorship of refugees.
The Global Refugee Sponsorship Initiative presented an award to the United Kingdom for our globally pioneering efforts to promote community sponsorship. The award was received by the Home Office and Charis, on behalf of the British Government and civil society groups.
The ceremony was first and foremost a celebration. However, it was also a chance for politics. We heard testimony from Bekele Woyecha and Amina Kadogo, who came to UK as asylum seekers from Africa, and had a very different experience to sponsored Syrian families. They were joined by Matthew Ryder, Deputy Mayor of London, in their call to government to #ExtendTheWelcome of refugees beyond 2020, and to include refugees from all countries.
If you missed the ceremony - don't worry! You can:
Watch the ceremony in full
See our photo gallery
Read press coverage of the awards.
Read our blog
The Winners 2018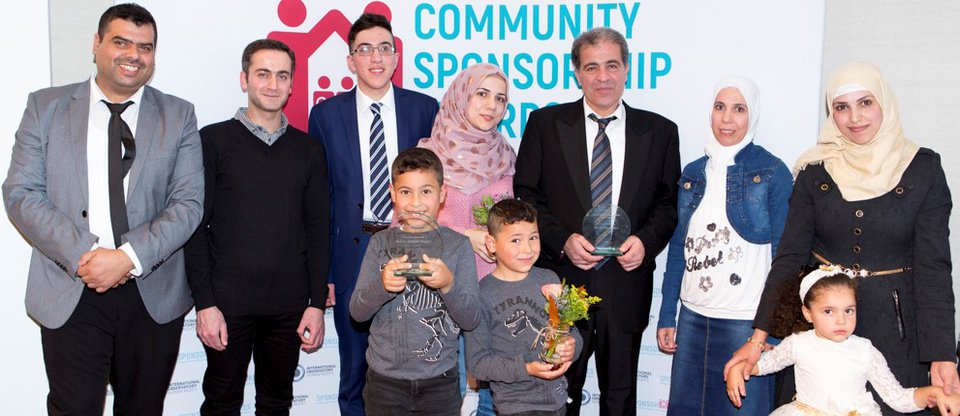 Community Sponsorship Group of the Year
Winner: Raynes Park Community Church (London)
Shortlisted: Croeso Arbeth (Wales) & The Pickwell Foundation (Devon)
Volunteer of the Year
Winners: Khairunissa Dhala – The Welcome Committee (London) & Lubna Akbar – Refugee Sponsorship Edinburgh (Scotland)
Shortlisted: Jeni McCaughey – Small World Whitehead (Northern Ireland)
Local Authority Supporter of Community Sponsorship
Winner: Simon Sandberg, Lambeth Council (London)
Shortlisted: City of Edinburgh Council (Scotland) & Pembrokeshire County Council (Wales)
New Community Sponsorship Group of the Year
Winners: Al Rayan Bank (Birmingham) & Herne Hill Welcomes Refugees (London)
Shortlisted : Corsham Sponsors Refugees (Wiltshire)
Newcomers of the Year
Winners: Al Amary Family (Devon), Alnabulsi Family (London) & Batak Family (Wales)
Sponsorship Champion of the Year
Winner: Steven Morris, Guardian journalist
Shortlisted: Migrants Organise
Special Judges' Award
Alison Bacon, Regional Strategic Migration Partnership (RSMP), North West Resettlement Lead
John Delahunty, Innisfree Housing Association
Youth Champions
Arun and Jasso Hamilton McMahon