Campaign on Resettlement - Action points for reopening and extending the scheme
Campaign on Resettlement - Action points for reopening and extending the scheme
On 17 March 2020, just days before Community Sponsorship groups were headed for the airport to welcome a refugee family, the IOM announced that due to COVID-19, resettlement flights would be suspended until further notice.
Seven months later, Community Sponsorship groups in the UK continue to sit in unbearable suspense - and the families they were ready to welcome left languishing in deeply precarious circumstances - as refugees board planes destined for France, Germany, Italy, Spain, and several other countries with little clarification on why the UK remains conspicuously absent from the list.
To break this silence and see resettlement numbers climb upwards again, we at Sponsor Refugees, alongside our colleagues at Reset, Charis, Refugee Action and many more, decided to take action. You can an overview of the action points below: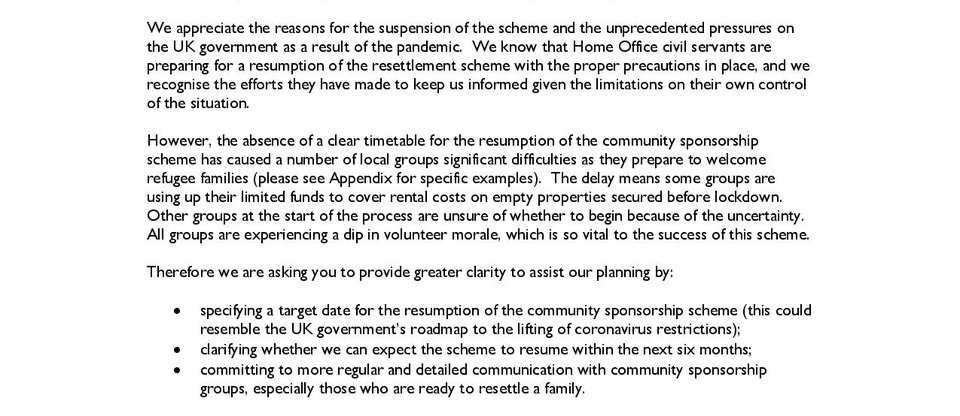 Correspondence with MP Chris Philp
Alongside 42 community sponsorship groups, we reached out to Chris Philp to ask him how our European neighbours were in full swing resettling refugees while the UK watched in silence.
You can read the full correspondence here .
Refugees Still Welcome Assembly
On 6th December at 3 - 4:30pm, our Refugees Still Welcome Assembly will bring the resettlement matter to a head. We will use the occasion to recognise the champions of refugee resettlement, and to call on the government to welcome a further 25,000 refugees by 2025. The event is intended as the grand culmination of the efforts and campaigns we are conducting leading up to it in which we estimate which MPs and other key figures are likely to change the government's inaction on resettlement. They will be joined by sponsorship groups, organisations, and resettled refugees reminding the government and the nation that the scheme must continue beyond March 2021.
You can sign up to the Assembly here .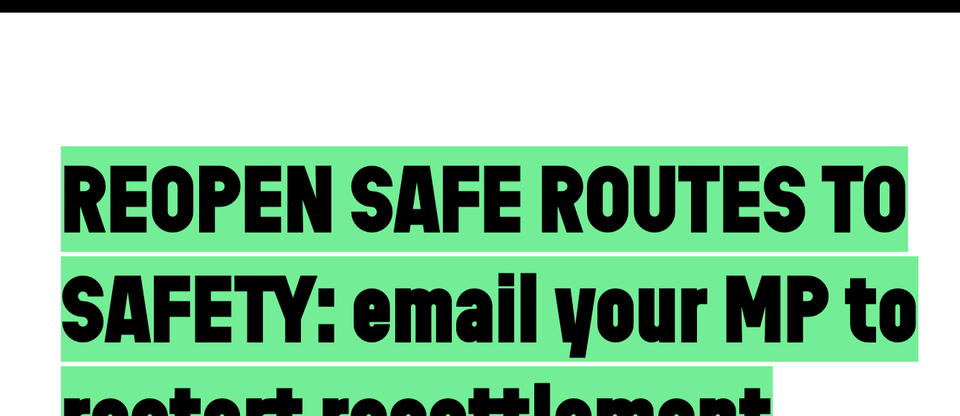 Refugee Action - Write to your MP
Refugee Action has called for all of us to email our MP to restart resettlement chimed in with Sponsor Refugees' demand to resettle 5,000 refugees per year. You can read their briefing on The Future of UK Refugee Resettlement here.
You can write to your MP here .
Charis' Information Pack
Charis compiled an incredibly helpful Information Pack to help sponsorship groups organise a delegation to their most conservative MPs with a clear outline for why writing them a letter is vital to reopening the safest route for refugees to escape war.
Where we are at
We want to make it clear that the roadblocks initially presented by Chris Philp are no longer applicable. We have seen the restarting of flights from refugee host countries as well as the lifting of restrictions imposed by the governments of those countries. In the meantime, the UK managed deportation flights to Spain and commercial flights were enabled with safety measures in place. The ability of international partners to operate was evident when the UNHCR, the IOM and others ensured resettlement flights to other European countries. Time and again, local authorities have expressed their readiness to resettle refugees.
So now we are wondering if visa application centres and the channel crossings - the Home Secretary's stubborn red herring - are the only reasons left?
Read the Quarterly Resettlement and Humanitarian Admission Statistics for the EEA (Jan - Sep 2020) here.
Read the Quarterly Resettlement and Humanitarian Admission Statistics for the EEA (July - Sep 2020) here.
Join us in the fight to continue the resettlement scheme beyond March 2021 and call for the government to resettle 25,000 refugees by 2025.