Community Sponsorship – a journey together
Guest blog by Tom Underwood, Raynes Park Community Church and Sponsor Refugees Ambassador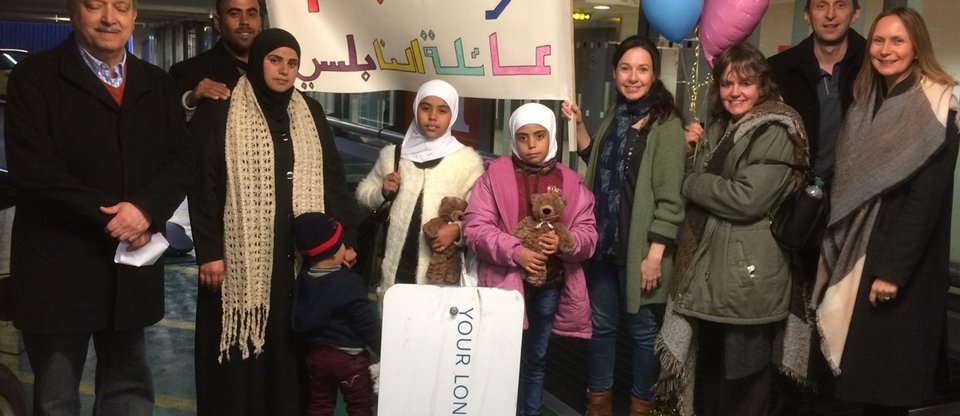 A year and a half ago Raynes Park Community Church became the second group in the country to welcome a Syrian refugee family through the Community Sponsorship Scheme.
As a Salvation Army church we have a long history of reaching out to the vulnerable so when our leaders first introduced us to the idea of Community Sponsorship we knew that this was definitely something that we wanted to do!
Before the family arrived the church worked together to complete the necessary paperwork for the Home Office, took part in safeguarding training, found out about Syrian culture and prepared the house for the refugee family. We formed a core group of twelve, including different skills from the church; a teacher who knew about school places, a retired couple with knowledge of the local area and parents of young families. The preparation was the start of a journey that has not only brought us closer together as a church community but has also introduced us to new friends in the wider community.
It was February 2017 when our family first arrived at Gatwick airport to be met by members of our team. The Alnabulsi family had fled Syria and lived in a refugee camp in Lebanon for seven years before coming to the UK.
During the last year we have helped the family with very practical tasks, such as; setting up a bank account, completing forms and showing them how to use public transport. My role has been to support the family's wellbeing. This started off with very practical tasks such as, helping with clothes shopping and showing them the nearest park. As the Alnabulsi family have become more self-reliant and independent my visits have changed, they're no longer about helping or practical tasks but visiting friends. One year on, the Alnabulsi's are a part of our community, or as they would say we have become family.
Our year together has been a journey that has not only changed the Alnabulsi family but has changed us, whenever we open our lives to other cultures we are always changed. We've been challenged by the warmth, hospitality & welcome of Arabic culture. Most importantly, we've learnt that love and friendship can overcome the cultural & language barriers that seem to separate us.
Since February I've been an Ambassador for Sponsor Refugee. This has given me the privilege of speaking to different groups around the county about our story of Community Sponsorship with the intention our story can inspire others. It's filled me with hope to meet with such a wide variety of groups from churches, mosques, synagogues and locally established welcome refugee groups all of whom have the same passion to help refugees. Most recently I visited Greenbelt, a Christian arts festival with a strong social justice stream of programming, where I talked alongside Safe Passage and other members of Citizens UK.
There is plenty more to say about our remarkable journey with the Alnabulsi family that doesn't fit into a five hundred word blog! The good news is that if you want to hear those stories you can book me or another Sponsor Refugee Ambassador !