Football, a cookbook and a generous donation: How two resettled families are thriving in Cardigan, Wales
Football, a cookbook and a generous donation: How two resettled families are thriving in Cardigan, Wales
Written by Vicky Moller from Croeso Teifi, Cardigan, Wales
Our group welcomed two Syrian families, one in late 2017 and one in early 2019.
We sponsored them to come to in Cardigan with a whole town welcome.
By now, 2021, they are settled, the Dads are in permanent work after starting with volunteering in the first week after their arrival. Both passed their driving tests in the last year, and have cars. Their children speak comfortably in English, Arabic and Welsh.
Muhanad and his son Shadi are keen footballers, both are in local teams. One footballer decided to arrange a tournament to raise money for our charity shortly before covid. There were nine teams, they played off all day. The other family cooked Syrian food for everyone, it was scoffed down. The picture shows the warm rapport between the Syrian kids and the teams who raised over £1000 for the charity. This is one illustration of a whole town welcome.
Recently Enas, the second family mum, saw her cookery book published. It is a touching beautiful production with her artwork, recipes and a few reminiscences about her past and present life. It has one of her favourite Arabic poems and some Welsh. She studied literature in Syria before war ended her studies.
It is attached for you to look at and costs £5 plus postage. The income goes to her.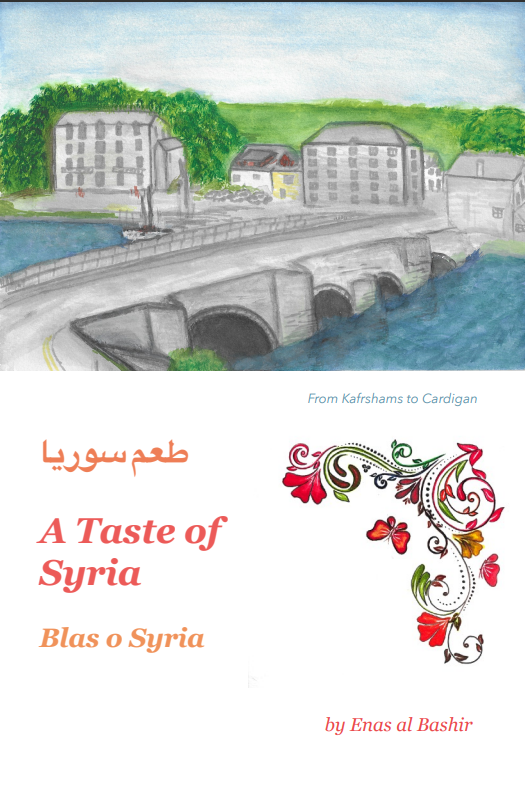 Since lockdown ended both families have visited relatives who came here through government schemes and therefore are not as fortunate with work and integration.
Ahmad was a barber in Syria and is employed with a barber who set up here partly because of Ahmed's skills.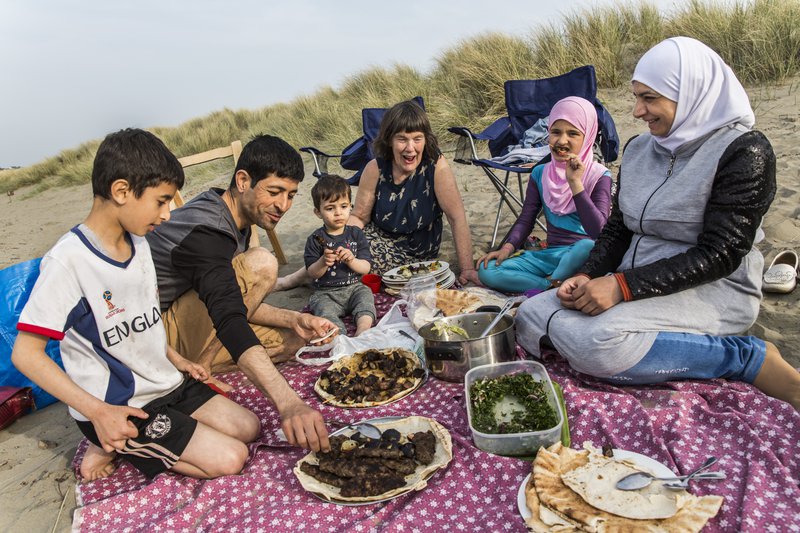 Muhanad is a builder and completing his third and final year in college which is sandwiched between his work with a local builder. He left school at 15 and has practical flair so he got a special award for his progress in college on a building course. He spoke very little English when he started but college felt that would be no impediment with their dedicated staff, it wasn't. He proudly showed me the permanent employment contract he got at new year.
Over a year ago, Muhanad and I were interviewed on world radio about our scheme. Just before Christmas I got a phone call from a family charity that had heard the interview and said they wanted to give us some money. I asked how much, and they said £9000 because they understood from the interview that this was the sum needed to settle a family. We were amazed. Some of the trustees were concerned whether we had the energy to start again. So we put out word to find a fresh team. We arranged a meeting in a café. The trustees were astonished when eight people keen and ready and with skills and resources all showed up. It turned out they had heard from our second team for the second family, what rewarding work it is. We were lost for words, fighting down emotion.
I hope you enjoy the Syrian cookery book. Enas can sign it for you, if you want to buy one.
Name: Croeso Teifi,
Bank: Lloyds bank
s/c 30 99 08
a/c 22188160
IBAN: GB41LOYD30990822188160
Reference: Enas cookbook
Posted by Kimie Frengler on 15 Jun, 2021