From Northern Lebanon to North West London - how a Syrian family embraced Hampstead wholeheartedly
In September 2019, the Welcome Syrian Families group (WSF) in Hampstead welcomed a family of 4. Below a deeply heartening update on the family's astounding commitment to life in North West London just before the lockdown was imposed.
Having arrived in London with no English, no friends and only a couple of suitcases between them, six months in, the family now seems well ensconced in Hampstead.
The family's youngest member Youssef just won Star Of The Week ⭐️ at his primary school! Thanks to the incredible in-school support from WSF volunteers, Lynda, Marianne, Eilis and Louise and Becca - who is his main helper, Youssef is now pretty fluent in English. Every day, the group sees Youssef's confidence grow and he now automatically translates for his parents. He's settled well with his classmates and is regularly invited to birthday parties. Weekends are spent playing football on the Heath and going to Kung-Fu. And he has just started to learn to swim as well. A pretty action-packed schedule as you'd expect any Hampstead child to have - he has a lot of (tiger) mums behind him.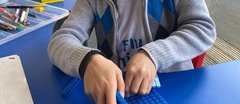 Youssef's older brother, Mohammed, is also doing well at college and making friends. He now texts in English as well as Arabic! He says he wants to work in IT eventually and is teaching himself coding with a volunteer. He's also discovered a passion for Kung-Fu, going to Sifu Andrew's classes three times a week and getting his first grading at the end of last term.
Saleh is a very positive and optimistic dad as the group's volunteers will attest. He's always smiling and very keen to have a go at anything. Aside from ferrying Youssef to school and various activities and attending English classes, he's also got a job. Since the autumn, he's been working two days a week at a local restaurant. The charming owner, a Kurdish refugee himself, has offered to teach Saleh to butcher meat - a great skill which will hopefully enable him to be employed anywhere! The WSF group is also providing him with additional language support at home to help him communicate more easily in English.
Mother, Amneh is doing really well in English - her writing and reading is excellent according to Michele, who co-ordinates the ESOL support at college and at home for the family. As Amneh is most likely to be in charge of the family's affairs and finances, WSF has decided to try to accelerate her learning with more tuition. And she's expressed an interest in looking after kids, perhaps in a nursery one day. Most of all, Amneh is really happy to see her sons having a proper childhood after the real hardship they have had to endure when they were displaced in Lebanon.
The WSF group has been incredibly supportive of the family and we see all the efforts manifest in the family's everyday life. The group is so grateful to get to know this lovely family and help them settle into their new lives in London, and so heartening to feel we can do something tangible in the face of the continued conflict in Syria and the hideous onslaught in Idlib right now.
Hooray for Community Sponsorship!