Meet the Shortlisted Nominees of Community Sponsorship Awards 2018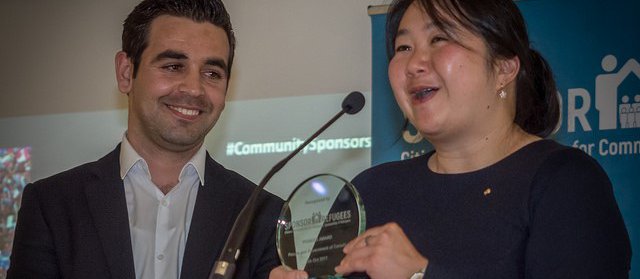 On 7th May we launched nominations for the Community Sponsorship Awards 2018. It was a delight to receive so many inspiring examples of sponsorship from across the UK. We want to extend our heartfelt thanks to all those who took time to nominate their heroines and heroes of Community Sponsorship of Refugees.
With over 150 nominations, our judges had a very a tough decision to make. We are thrilled to announce the shortlisted nominees.
Community Sponsorship Group of the Year
Croeso Arbeth - Narbeth, Wales
Pickwell Foundation - Georgeham, Devon
Raynes Park Community Church – Merton, London
Volunteer of the Year
Jeni McCaughey – Small World Whitehead, Northern Ireland
Khairunissa Dhala – The Welcome Committee, London
Lubna Akbar – Refugee Sponsorship Edinburgh, Scotland
Local Authority Supporter of Community Sponsorship
City of Edinburgh Council - Scotland
Pembrokeshire County Council - Wales
Simon Sandberg, Lambeth Council - London
New Community Sponsorship Group of the Year
Al Rayan Bank – Birmingham
Corsham Sponsors Refugees – Wiltshire
Herne Hill Welcomes Refugees - London
Newcomers of the Year
Al Amary Family - Georgeham, Devon
Ghassan Alnabulsi & Manali Altawba – Merton, London
The Batak Family - Narbeth, Wales
Sponsorship Champion of the Year
Steven Morris, Guardian journalist
Special Judges' Award Winners
Alison Bacon, Regional Strategic Migration Partnership (RSMP), North West Resettlement Lead
John Delahunty, Innisfree Housing Association
Youth Champions
Arun and Jasso Hamilton McMahon
Many congratulations to all those who were nominated for these awards. The winners will be announced at the ceremony on 2 nd October. The awards are organised by Sponsor Refugees in partnership with International Observatory of Human Rights (IOHR) , and supported by Global Refugee Sponsorship Initiative (GRSI) .