Newcomers at the Heart of Awards Ceremony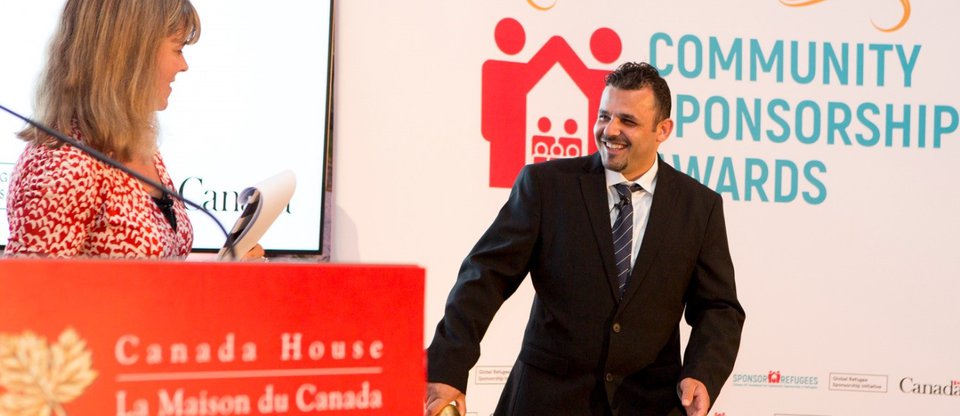 At the heart of community sponsorship is the notion that sponsors and refugees are joint partners in a shared enterprise. Sponsorship is an activity we do with our new neighbours, not to them. So, it was appropriate that refugees were front and centre of the Awards ceremony this year.
Hani Arnaout, who was welcomed with his family to Ottery St Mary in Devon by the Abide Community Sponsorship group two years ago, acted as the co-host of the event with BBC broadcaster Claudia Hammond.
He also played with musicians Sean Ryan and Dylan Owen in a moving and inspiring performance that kicked off the evening.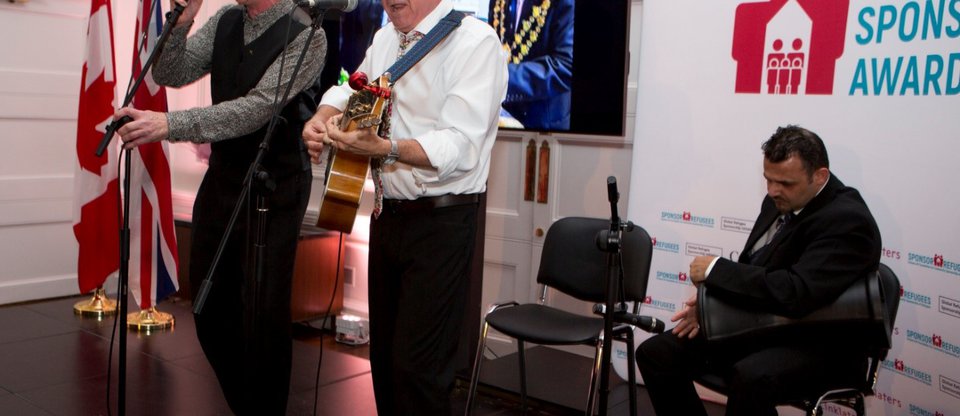 Perhaps the most moving moment of the night was a complete surprise. It occurred when Hani recognised one of the runners up for the Newcomer of the Year Award, Samer Khaled Karob. In the words of his citation for the award, Samer 'personifies integration', having found work and built a new life in the UK, after being welcomed to East London by a Hillsong church group. Life was very different for Hani and Samer when they last saw each other two years ago – for that was in a UN camp in Jordan. The joy of their reunion was palpable.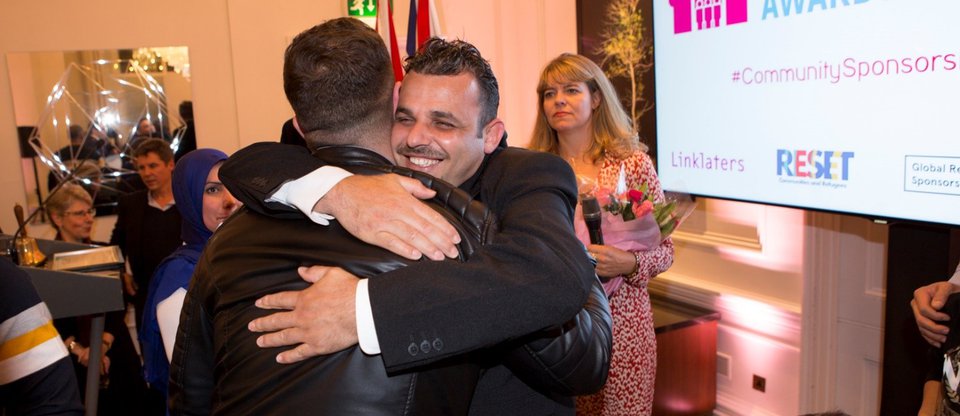 Hani's family were present to share the joy of the evening – including little Mary who was born a year ago and named in honour of the people of Ottery St Mary.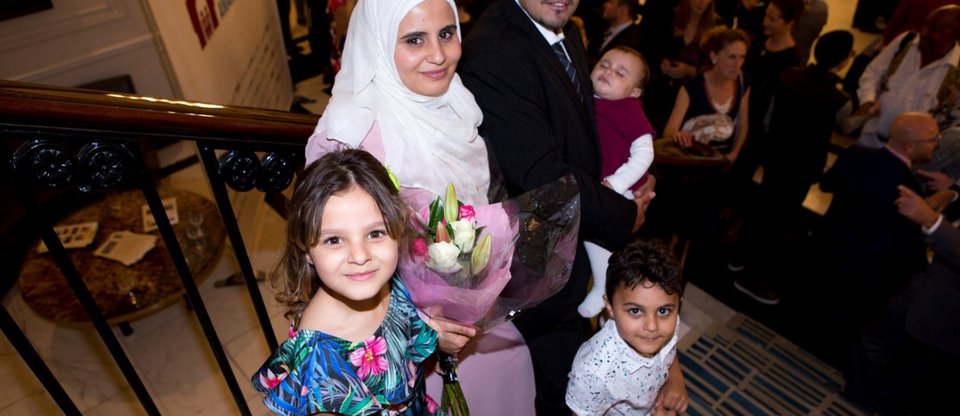 And the winner of the Newcomer of the Year Award, Samir Hamyeh, from Manchester, was also accompanied by his two sons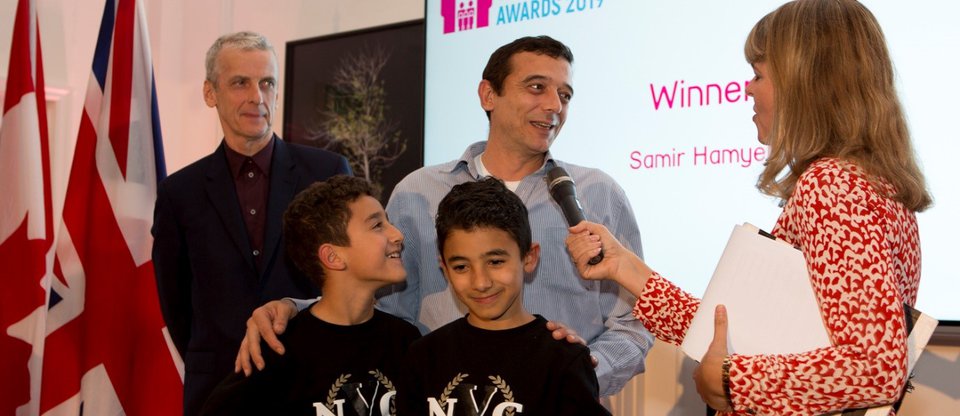 Samir was recognised for his achievement in opening his own Syrian restaurant – and the business is doing so well that it was quite a struggle for Samir to get away for the evening to collect his award.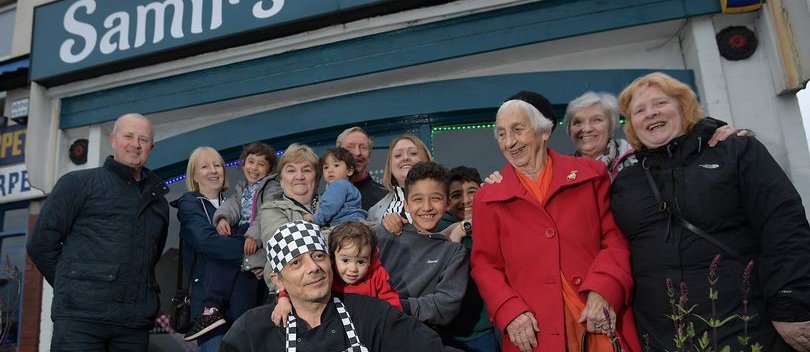 Another sponsored refugee who is thriving is Falak Batak, who was welcomed with her family to Pembrokeshire by Croeso Arberth Community Sponsorship group. Falak is studying to become an interior designer, but also finds time to champion Community Sponsorship across Wales and beyond. She was the presenter of the Young Champion award.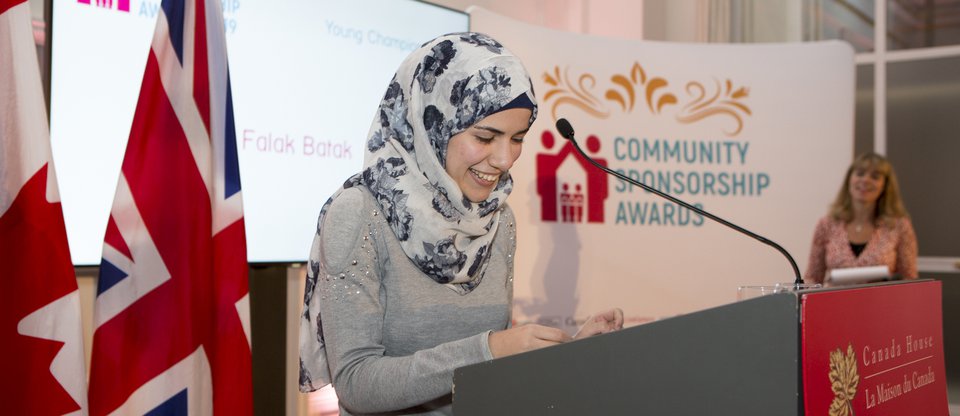 The Young Champion Award went to Bea Forrester, who has founded two Community Sponsorship groups, but along with the Pupils of Queens College Taunton, a runner up was Syrian refugee Mouteb Ajaj, who among his other accomplishments, has twice spoken in parliament to promote sponsorship of refugees. He was praised by star award presenter, Doctor Who actor Peter Capaldi, as "an amazing, impressive boy, who has achieved so much." Peter should know, because he is himself a member of the group in Muswell Hill which has welcomed and supported Mouteb and his family.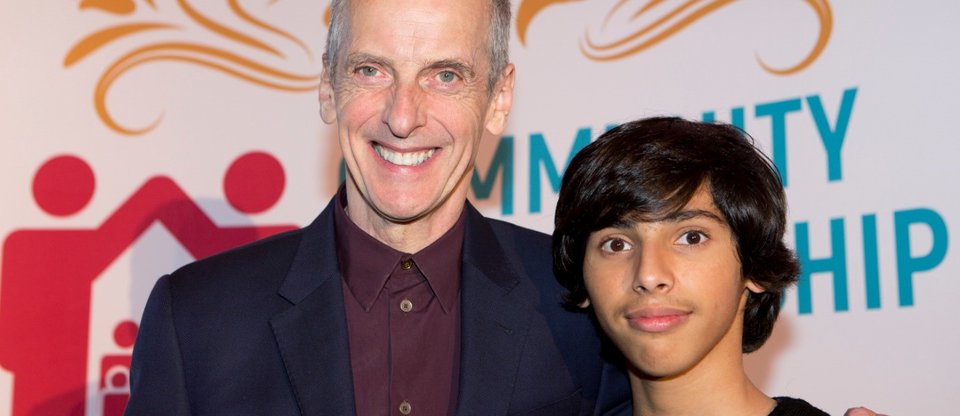 Alaa Khattab isn't a refugee, but he is a Syrian, now living in the UK. Alaa is another person who has acted in many ways as a champion of Community Sponsorship and he was a popular winner of the Champion Award. He is shown in this photograph with his fellow nominees Eva Jonsson and Vicky Moller, as well as Peter Capaldi and co-hosts Hani Arnaout and Claudia Hammond.
Finally, Sebit Nal is a refugee from another part of the world and is still separated from his own family. But that hasn't stopped him from playing a key role in his local Community Sponsorship group, the Welcome Committee, in South East London. He was one of the runners-up in the Volunteer of the Year category - and he joined other members of his group, members of the sponsored family and Peter Capaldi to celebrate. (Sebit is the tall one at the back!)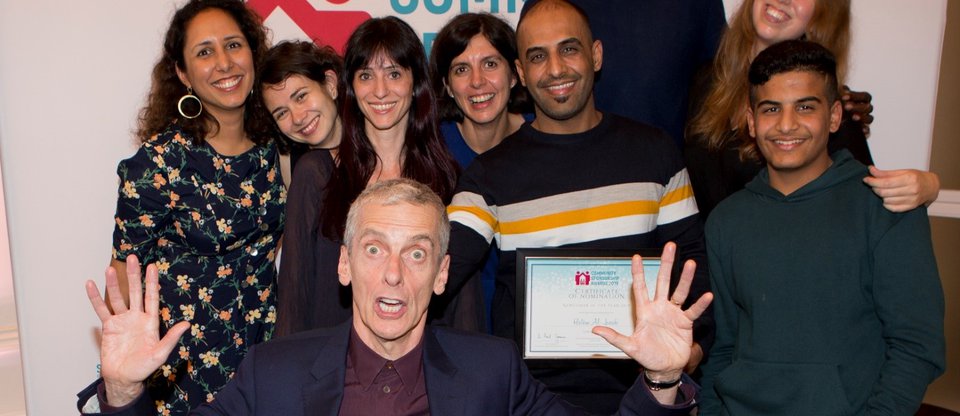 Photos © Ian Brodie/Sponsor Refugees