Our Journey through Community Sponsorship
By Jeni McAughey, chair of Whitehead Small World Group - the first Community Sponsorship group in Northern Ireland. Small World Group welcomed a family in September 2019.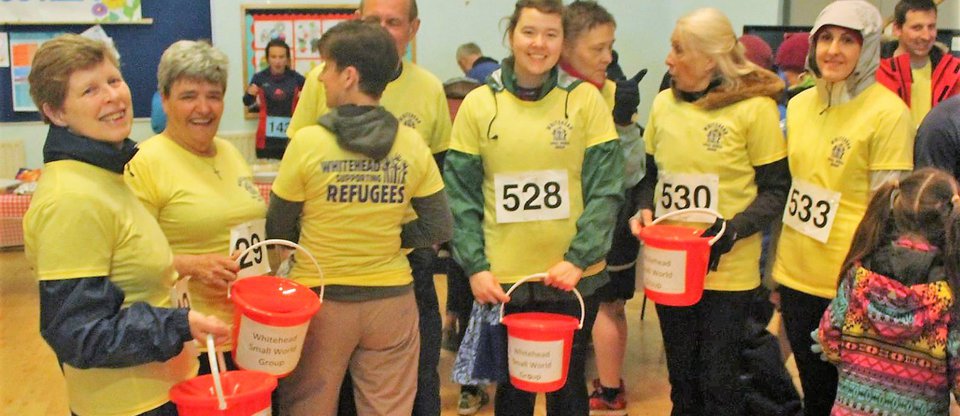 I wonder if articles in the Guardian should carry a health warning; they can change your life! I read such an article in the summer of 2017 about a community in Wales welcoming a Syrian refugee family under the Community Sponsorship scheme. I had been feeling for a long time that I would really like to do something practical like this but had no idea where to start. Fortunately, the Citizens UK contact details were at the end of the article and I contacted them a few days later. Tim Finch outlined what was involved in the scheme and it seemed do-able!
The next step was to get a team together; I started with some friends I knew had been interested in similar projects in the past. Most of them knew at least one other person who might be interested and in a very short time we had a core group of about 8 people. It became obvious early on that no-one had already sponsored a family under this scheme in Northern Ireland. However, a meeting had been planned by some community and refugee charities shortly after we set up our core group. This was an opportunity to meet others working with refugees locally and to hear more about how Community sponsorship worked.
Having got our core team together, the first step seemed to be raising £9,000, to cover the costs of 2 adults coming to our Community. This was surprisingly easy, we had a number of substantial donations from those who believed this was a good idea. We had several fund-raising events, a quiz night, a folk music concert, a coffee morning and taking part in the annual Easter Monday road race in the town were high-lights. The trick, I think is to plan things which are fun as well as raising money.
Reaching out to the wider community involved setting up a Facebook page, this was more reactive than a web-site and much easier to set up and maintain. We planned a public meeting and advertised this widely both with eye-catching posters and on social media. Getting support from some key community leaders such as the local clergy and sympathetic local politicians was helpful. Our public meeting attracted a huge attendance with a wide range of opinions as to whether this plan was going to be good for our community or not. There was some vocal dissent with some believing that charity should start at home and some Islamophobic attitudes expressed. However, there were also many who totally supported the plan and rejected the negatives views expressed. After some serious soul searching, we decided to move ahead with the project. We were very fortunate in finding a sympathetic landlord with a suitable property available for rent.
Completing all the paperwork was time consuming, there is a lot of it! Again, this was probably more of a hurdle for us as it all had to be written from scratch as it needed to be made applicable to Northern Ireland. But hopefully, it will then be easier for any other groups in the future.
Building up and equipping a team of volunteers was the next task, many people signed up through facebook or through the various events we organised. We sent out regular emails and organised training on safeguarding, awareness of refugee issues and some sessions meeting asylum seekers and refugees. There was lots of time to ask questions and to raise concerns.
Getting approval was a great feeling and there was much excitement getting the house ready for "our" family. We had a huge number of donations of furniture, kitchen equipment, toys and clothes. It was very emotional when the family finally arrived, and many tears were shed.
I would certainly recommend this scheme, the whole project had not just helped the family, it has helped us as individuals in getting to know other people in the local area. It has helped community cohesion and has raised awareness of many of the issues faced by asylum seekers and refugees.