Resettlement Scheme Extended! Community Sponsorship to be Additional
After a campaign running 12 months and spanning the country Citizens UK leaders are celebrating after hearing that the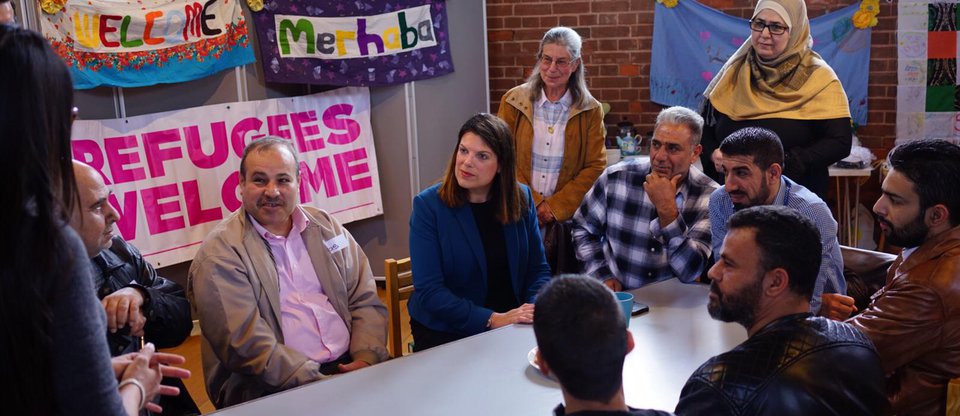 Government's refugee resettlement scheme is being extended, and that Community Sponsorship will be in addition to government resettlement numbers.
Reverend Cathy Wiles, All Saints West Dulwich (member of Citizens UK) said: "This morning we proudly welcomed Immigration Minister Caroline Nokes to our church to meet with refugee families and local organisations who have helped integrate 27 refugee families to our Borough of Lambeth."
"Today's announcement is welcome news and means thousands of families, who desperately need this lifeline, can arrive in the UK via safe and legal routes. However, this should be the first step in a longer commitment if refugee resettlement, including Community Sponsorship, is to flourish."
Barbara Wilson, Lambeth Refugees Welcomes and leader with Citizens UK, said: "We're grateful that the Government today announced a one-year extension for the scheme and that families arriving via Community Sponsorship are additional to the overall Government target. We're hopeful that this will act as a great incentive for more voluntary groups to take part in refugee resettlement and help bring families to safety."
What the changes mean:
We've been calling for an extension of the scheme and the Government has committed to a further 5,000 refugees in 2020/21 as part of a New Global Scheme which brings together existing VPR, VCR and Gateway schemes.
We're currently awaiting further details of exactly how this scheme will work.
Community Sponsorship of refugees by groups of individuals is going to be on top of these numbers. This is something we have been calling for and is crucial since all the work of planning resettlement, fundraising and welcoming families is done by the community in this case, so shouldn't be included in the Government run figures for resettlement.
The Home Office has confirmed that people from other countries facing conflict and oppression will be included in this scheme.
It was originally set up primarily to help Syrian people fleeing the conflict in their homeland. This is positive news as it allows the flexibility for refugees to come from both existing conflicts but also new areas where trouble may flare up and the UK needs to meet humanitarian need
The Independent spoke to Hani Arnaout, who was sponsored by Abide Community Sponsorship Group, about the importance of the scheme and the excellent news.
Picture: Caroline Noakes meets resettled families at All Saints Dulwich (a member of Citizens UK) to listen to their experiences and announce an extension to resettlement scheme.