Revealed: Britain's Most Welcoming Cities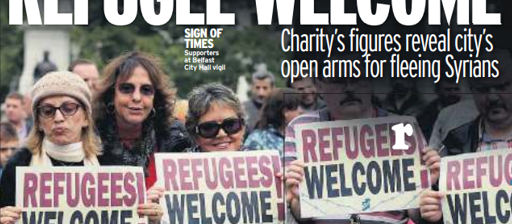 London, Coventry, Birmingham and Bradford named 'most welcoming' cities after resettling more refugees though the UK Government's flagship 'VPRS' refugee scheme than anywhere else in the country. Birmingham has also been recognized coming in 5 th place.
Since the scheme launched in September 2015 a total of 15,977 refugees have been resettled in the UK via VPRS and 1,410 via VCRS. A further 281 refugees have been welcomed to the UK through local volunteer Community Sponsorship groups. The Government is on target to meet its commitment to resettle a total of 23,000 refugees by 2020.
Bradford and Glasgow also feature in the top 5, but when it comes to refugees resettled by nation/region Scotland (Glasgow, Edinburgh, Aberdeenshire and Dundee), Northern Ireland (County Durham, Antrim, Armagh and Lisburn) and the North East of England (Newcastle, Gateshead and County Durham) are well ahead with 11 of the top 20 towns and cities from these parts of the country. Wales is the only nation/region of the UK where every local council has participated in the resettlement programme, and its rural communities are pioneering community sponsorship in places such as Fishguard, Aberystwyth and Narberth.
The data, compiled from official Government figures highlights the many successes of the scheme, with three in four councils across the UK – a total of 322 local authorities - having welcomed at least one or more family since the start of the scheme in 2014.
Sponsor Refugees estimates there are now more than 150 active groups either directly sponsoring a refugee family or working towards welcoming a family to their community in 2019/2020, with hotspots in Wales, the South West, the North West and London.
However, this means 72 local authorities have failed to resettle a single refugee family in that time. This includes affluent London boroughs such as Westminster, the City of London and Harrow. Britain's wealthiest county, Surrey, has only settled 4 refugees so far and some other home counties such as South Bucks, South Oxfordshire and South Cambridgeshire have not settled any refugees as part of the refugee scheme launched after the Syrian conflict.
A few London boroughs are managing to go the extra mile to help refugees. Lambeth have settled the most: 112 refugees since 2015. Lewisham has the biggest pledge to settle by 2020: the Council has settled 17 Syrian and Iraqi refugee families since 2016 and plans to welcome 100 more over the next three years.
Reverend David Butterworth, Methodist Minister for Birmingham District and leader of an interfaith sponsorship programme, said: "It's no surprise that Coventry and Birmingham come out on top in regard to receiving refugees from the Syrian conflict. Both Coventry and Birmingham were devastated in the war and had to start life again. just like the refugees we're now proudly resettling. We have also made a good start on Community Sponsorship in the West Midlands and there is an appetite to do more. "
Erica Brooks, Chair of Refugee Sponsorship Edinburgh, said: "It is great that my home city of Edinburgh and Scotland generally has been in the forefront of welcoming Syrian refugee families through the resettlement scheme. I am proud too that Refugee Sponsorship Edinburgh, which I chair, has become the first Community Sponsorship group to welcome a Syrian family in Scotland. I know there is an appetite to welcome more refugees in Scotland, including from other countries."
Comparatively, it's the less affluent towns and cities such as Coventry, Birmingham, Newcastle, Gateshead and Glasgow that top the charts all having welcomed over 300 refugees.
The news has been celebrated by regional outlets across the UK, including Edinburgh Evening News, Mirror Northern Ireland, Coventry Observer,  Birmingham Live, and Europe Breaking News.