"So we have new neighbours"
"So we have new neighbours"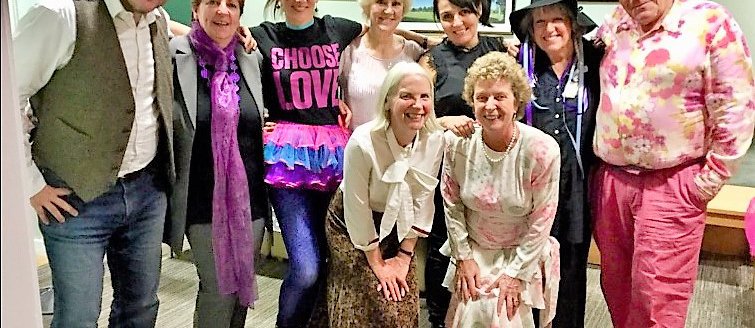 Blog written by Alison Lockyer, South Leicestershire Community Sponsorship Group
"What days do you have water?" Amneh politely asks, as if it's as normal as an enquiring about when to put out the bins.

She is 21, pale after having set off at 1 am this morning from Jordan via Istanbul to Birmingham with her husband and 2 children, but still going nearly 19 hours later and having seen me run the kitchen tap, realised that today was definitely a 'water day' and wanted to get a load on !
Wind back to a conversation probably now coming up to 2 years ago, when my husband and I decided to offer accommodation, a converted coach house that is now empty, to a refugee family from Syria, but where do we start ? A well connected medical colleague gives me a London charity contact, but it seems that despite what we see and read about all of Europe taking in refugees, the UK has no easily visible process for us to simply hand over the place.
Thousands, homeless, we can't be the only couple with spare space who want to help, so is the promise to take in thousands just lip service?
Riding to the rescue, an article in the Guardian mentions the work of Tim Finch and the UK Refugee Council, based in North London and I call him.
The ball starts to roll.
On a freezing night in February 2018, those with 4 wheel drive cars and those who just said they'd be there, and so made it through the snow, meet and the as yet nameless group of interested volunteers became a Community Sponsorship Group.
In true Apprentice style, we did later spend perhaps more time than we'd allocated to deciding a name, our defence being that as we had to fund raise £9K we needed a description of who and what we were, the South Leicestershire Refugee Housing committee, to have some credibility.
The local Sally Army were in at the beginning and acted as the fund keepers to avoid the extra and possibly delaying task of setting up a separate charity and their experience from having already been involved in half a dozen community sponsorships elsewhere smoothed out a lot of wrinkles in the process. Money raising wasn't really the hold up either and whilst we perhaps could have achieved it in less than the year it took, by running various events we publicised our cause and received so much more – donations of clothes , a local business gave us a hamper full of sample shoes, boots, slippers and woolly hats and scarves, a Lebanese couple cooked for a fund raising dinner for 30 and then refused to even take money for the ingredients, schools talked about Syrian children living in camps and collected money for us, the local churches made us their charity when the Harvest Festival collection was given. Thankfully not one person to whom we spoke ever said anything at all negative, ( we'd been warned there may be some comments along the lines of ' charity begins at home) and the bonus was seeing just how many around us felt the same way about this humanitarian crisis and wanted to do something, to contribute.

But look, finally , here we are, the kitchen of their new home looks like a party is in progress: we have 2 translators (one male, one female),the family, the 3 meet and greet from our group and a meal on the table prepared by another local Syrian family. My first job as 'landlord' is to show them the fire exits and alarms - Ibrahim takes it all in, and though his escape from Syria and 80 months living in Jordan must have been far more risky, he nods as I show him the white things on all the ceilings and the various ways of exiting the house, not knowing that the differing local and County Council rules about dear old Health and Safety and Housing have delayed his family's arrival by at least 6 months. Grrrr.

But it's a scene that makes those irritating memories fade. Major Carl , Mary Ann and I all admit that we didn't sleep much last night, through excitement; he is now smiling but silent and just looking on from the side of the room, rightly proud of his part in making this day happen. Mary Ann is beaming, she'd called ahead from the minibus with an ETA and warned me that Amneh was quiet and a bit tearful on the journey, but she is now asking how all the appliances work and through the translators we discover that she was so worried about the accommodation, they had heard scare stories that the refugee houses weren't very nice, and she is thrilled to find that was wrong, as despite putting a PVC door on a restored coach house, something my husband has never quite taken to, I'd give the place a 5* Air bnb rating.
So we have new neighbours.
As I write this, Malak and Muhamad should be sound asleep, having taken in their stride a day that most adults would find exhausting but they are still bright eyed and bouncing having arrived to find toys in their bedrooms and have opened everything - a pack of paper is spilling out of the recycled hamper, now her toybox, as she shows her Mum how the multicoloured strands of Plasticine can be squidged and Muhamad has selected a tractor to wheel - wrong religion, but it does look as if it's Christmas day and whilst Dad, through the translators, asks whether the construction of the PVC front door is sturdy enough , apparently worrying that it could be easily broken down, the kids are making the most of their parents attention being diverted with laundry and security.

Over the recent months our committee have had some excellent and free training from Reset, the government arm of refugee resettlement, to prepare us for the task of supporting a family, but the reality of water rationing and home security concerns in rural Leicestershire hadn't really featured. KPIs don't seem quite right for the occasion, but if in 6 months time I noticed them feeling safe enough not locking their doors, I'd take that as a win, as would a request by them to help source a cot….

Tomorrow perhaps the real work begins, as a community sponsorship group has to not only fund and find somewhere for the family to live, but to support them towards independence. We've all been allocated roles and Ibrahim and Amneh will be inducted into life in the UK via opening bank accounts ( glad I didn't put my hand up for that one), registering with the local council, visits to and from the local school where the kids have been enthusiastically accepted ( and been given free uniforms, another unexpected kindness), doctors, dentists, opticians, orientation, mosque visits, English lessons, budgeting, benefits and bus timetables ( free year bus pass for them , thank you Market Harborough ),food shopping and perhaps the biggest challenge, cooking on an Aga.

And it's been quite a journey for all of us involved, dusting off our people skills to push paperwork, cajole councils and celebrate online when we encounter a computer that says 'Yes'.

I have a dozen new friends, discovered shops even I didn't know existed in Leicester, a pastry chef living next door and tears in my eyes as I write this .
We're fresh out of empty coach houses, but if you have one, please let me know.
Photo features Alison with her group members during their 1980s Disco Fundraiser.