We Need You! Take Part in Refugee Week
We Need You! Take Part in Refugee Week
As Refugee Week (15 th -21 st June 2020) approaches, Reset, Charis and Sponsor Refugees are calling for new groups to 'Welcome a Newcomer' through Community Sponsorship.
The UN estimates that there are 1.4 million refugees needing resettlement across the world , and as a result of the global pandemic there is a growing backlog of refugees from the Syrian conflict who are languishing in refugee camps. The UK Government's Community Sponsorship Scheme allows ordinary people to bring a refugee family to live in their community, and support them to integrate. Every time a group commits to Community Sponsorship, another vulnerable refugee family gets the opportunity to rebuild their lives in the UK.
So we're asking for your help to 'Recruit a New Sponsor in Refugee Week' . When travel restrictions lift there is going to be surge of refugees needing resettlement, and we want to make sure there are communities in the UK willing to welcome them. There are a number of ways to recruit a new Community Sponsorship Group – so you can choose what works for you – but what we do know is that the best people to recruit other sponsors are those who are already doing it!
Here are some ways in which existing Community Sponsorship Groups can help: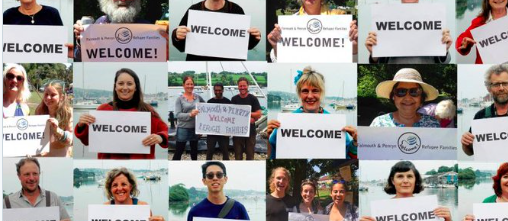 1. Run a Local Community Sponsorship Cluster Event (online, of course…) : Charis have a really successful model of running local events aimed at potential community sponsorship groups. They ran one of these in Devon earlier this year and this resulted in 4 new community groups starting up (that's four families whose lives will be transformed!). None of us can really meet at the moment, but we can gather online through Zoom, and Lisa and her team at Charis have produced this excellent guide on how to run a local Community Sponsorship Cluster Event online . It doesn't have to be glitzy or slick – it's just about bringing those who are enthusiastic about community sponsorship together with potential sponsors. As Lisa says, "The key to the success of the event is local people sending invites to other local people who they know. Trust and relationship are vital."
2. Reach out to a Potential Sponsor 1-2-1: Don't have the time to organise an online Cluster Event?
All is not lost! You can still help just by having a chat with up to five people you already know. Sponsor Refugees , and the wider Citizens UK organisation, are encouraging existing Community Sponsors to have 1-2-1 conversations with a handful of personal contacts who might be up for joining the Community Sponsorship movement. It's easy – make a list of people who you think might be up for it, organise a 1-2-1 phonecall with them ahead of Refugee Week to share your Community Sponsorship story and answer their questions, and then invite them to join you for the Sponsor Refugees ' Introduction to Community Sponsorship ' Zoom call on Friday June 19 th at 13:00 to hear more inspiring stories and the support you can get for your application.
Download our Community Sponsorship 101 - an introduction.
3. Spark Young Imaginations to Welcome a Newcomer
We've all got imaginations, but children's imaginations are particularly special! This year, many children are spending much more time at home and parents are having to come up with creative ways to exercise their children's imaginations. So Reset have made an activity for the children of your Community Sponsorship group volunteers and the sponsored refugee children you support. The activity focuses on the different ways that you can welcome newcomers into your neighbourhoods. We hope that the creative ways that children find to express the act of welcoming a new neighbour will catch the eye of people online, who will then take up the cause of Community Sponsorship themselves!
We'd like to keep a list of all the Community Sponsorship Groups who participate in the 'Recruit a New Sponsor in Refugee Week' campaign – so please let us know what you and your group have planned – and if you need any support.
Sponsor Refugees Team