"You Are Welcome" - Family Arrives in Sutton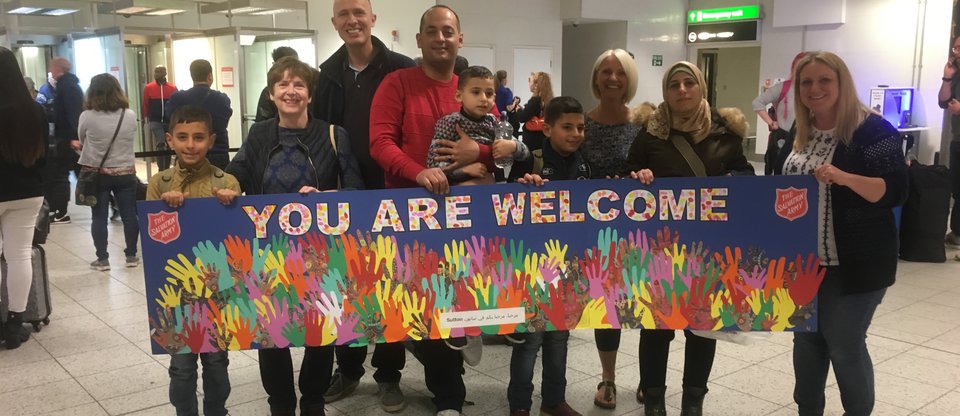 Guest blog by Gill Bonner
It is now just a week since we welcomed the Alhmaier family at Gatwick Airport and took them to their new home in Sutton. At Sutton Salvation Army Church, giving a warm welcome is what we're about. The outside of our building says 'You're Welcome' and we try to live this phrase out at every opportunity. Welcoming a new family, from a background unknown, is no different. We wanted the family to know how very, very welcome they were - to The Salvation Army, to Sutton, to the UK and it was important that all those in our church community could contribute.
On the day that our welcome banner was made, those attending our church service were invited to add their inked fingerprints to the words across the top...naturally 'YOU ARE WELCOME'. Regardless of our own backgrounds, race, situations our fingerprints symbolised the uniqueness of each one of us, uniting together as a community willing to receive and support a new family. We also asked that everyone, young and old, could draw around and cut out their hand print - a wave - to fill the banner will a visual 'hello' in a multitude of colours. Everyone was included and those who can't easily move around, or take part in the activity were helped by others. The whole church was buzzing and alive with the anticipation of being able to join together in something so significant. We couldn't all greet this new family physically at the airport, but by placing our own 'wave' on the banner we could indeed be a part of welcoming them and being present with them on the start of this very important journey.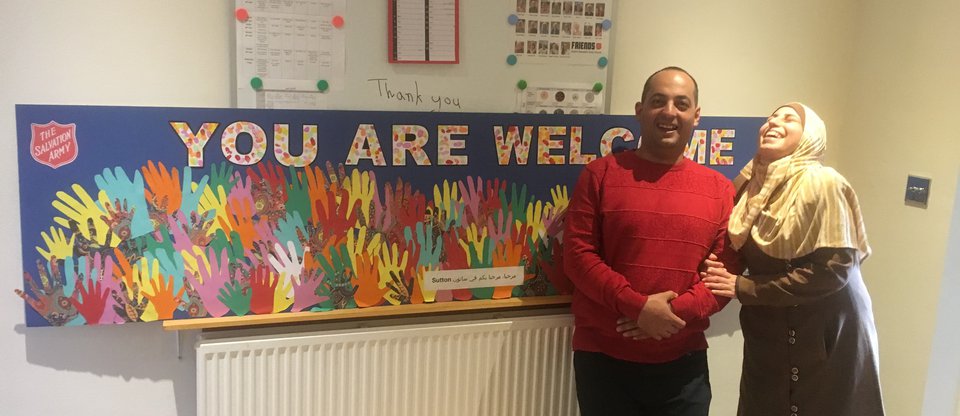 For the small welcome group at the airport the anticipation of the family's arrival was intense. So many people in our team had worked tirelessly throughout the long 18 months since we began the process of applying to be Community Sponsors and now the moment had arrived – it felt unreal.
The meeting was a blur of handshakes, smiles, tears, photos, luggage, greetings and a feeling that now we had found each other we couldn't let each other out of our sight. Since then we've shared with them, and them with us, how we were all feeling and many of the emotions were the same. Fear of the unknown, anxiety about what people would be like, excitement about a new chapter about to begin and a longing for this to go well. It's impossible to express how things have changed since that moment at the airport!
How can so much happen in one week? Not just the endless appointments at the bank, the Job Centre, the college, the school, the GPs, the library, but also the many trips to research local food shopping options, the visits to the park, the excitement of buying the school uniforms, the fun with Google translate, the filling of so many forms, the creation of endless passwords, and the search for that elusive kitchen utensil necessary for creating a particular Syrian delicacy with which to delight us, their new friends.
We have been blown away by the way total strangers in our community have welcomed the family. Everyone that we have come across when out and about in our busy London borough has found time to be so helpful, friendly and kind. It has restored our faith in human nature and shown us that we are not as divided as some would have us believe. The result is that Fadi, Lina and the boys love Sutton! They can't get used to the quietness of life here – our pedestrianised High Street feels so calm and safe, they are amazed at the beauty of the tree-lined streets and yet couldn't believe that it was ok for the children to talk in the children's library!
So many differences and yet the most wonderful thing of all is how we are the same. We speak different languages but communication is easy. We have different faiths but have discovered that the things we hold to be true are the same. We have had incredibly different life experiences but those experiences have brought us to the same conclusions. That we need each other, we learn from each other, we respect each other and we can live together demonstrating that every family has a right to live in safety. We agree that Community Sponsorship has been life-changing for us all and that it is an amazing scheme which we want to promote and encourage others to explore. It has brought us so much joy already and we know that with the support of the wider community and our church family we can work through whatever challenges lie ahead for this beautiful Syrian family and ourselves.
Find out how you can welcome and support a family to resettle in your community