"You, Me and Those Who Came Before" - Parliamentary Event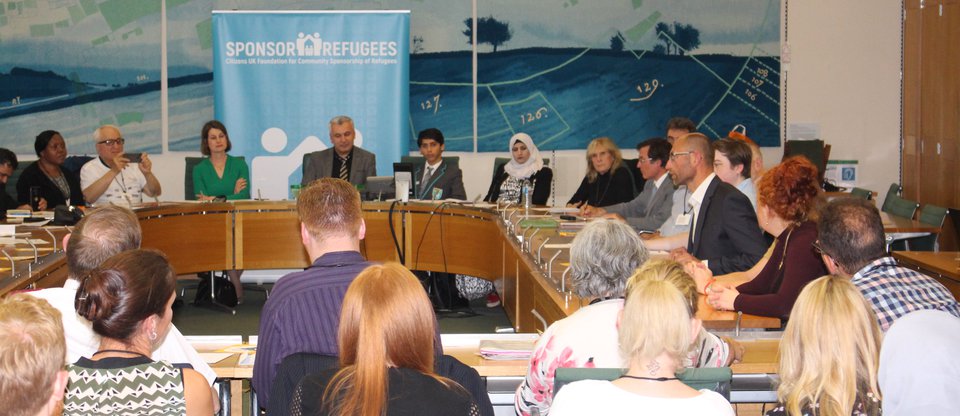 Sponsor Refugees held a Parliamentary Event during Refugee Week 2019, hosted by Helen Hayes, MP for Dulwich and West Norwood. The event was organised and run entirely by refugees. The event came a day after the government announced that the refugee resettlement scheme would be extended beyond 202 0, and that all families who are welcomed through Community Sponsorship would be in addition to government resettled refugees.
The event was a brilliant way to celebrate the news, and the success of the Community Sponsorship scheme to date. However, newcomers also highlighted the challenges they face as refugees and asylum seekers to the UK.
The theme of Refugee Week was "You, Me, and Those Who Came Before", and we heard testimony from people across the generations - including Mouteb, just 13 years old!
Rahaf, who was sponsored to live in North London, described the difficulty of leaving her large family behind in Jordan, and the first tough months as she adapted to her new home.
Hani, one of the first people to be welcomed through Community Sponsorship, highlighted that all resettled refugees arrive with just five years leave to remain - and his fear of what might happen three years from now.
Mouteb spoke of his gratitude to his teachers. Before being sponsored to the UK, he had never been to school. He reminded us of the many children still in Syria and Jordan, including his cousin, who have still never had the opportunity to go to school.
We also heard from Sarah and Ali. Both came to the UK not through the Vulnerable Persons Resettlement Scheme, but as asylum seekers. Sarah explained how difficult it is as an asylum seeker in the UK. She has been separated from her daughter for decades, and has never had certainty about her status in the UK. However, we're delighted that just a week after the event, and after 23 years of uncertainly, she was granted indefinite leave to remain!
Ali demonstrated the perseverance and entrepreneurial spirit of refugees. One year from being granted refugee status, he signed off from social welfare and opened his own restaurant. He is now providing employment for several local people and refugees. His success demonstrates the benefits that refugees can bring to the UK - and why we should allow asylum seekers to work.
The event was opened by Helen Hayes, who spoke with great passion about the Community Sponsorship scheme. She said, "If I take one message from Community Sponsorship that I want everybody to understand, it's that when a community says 'we can make a little bit more space for somebody who desperately needs it', absolutely everybody is blessed by that experience. It is a mutual exchange of ideas, of love, of culture, of perspectives, and that means that everybody benefits".