How to do community sponsorship
How to do Community Sponsorship
Transform the lives of a refugee family and the lives of your community
How to do Community Sponsorship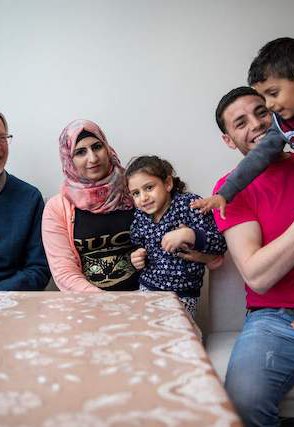 A step-by-step guide
We have created a Community Sponsorship Portal, which takes you step-by-step through the process – from forming a group and writing your application, to welcoming the family and supporting them to independence.
Community Sponsorship groups are committed to supporting a family from the moment they step off the plane, and to walk beside them during their first year in the UK. We explain the steps briefly below.
To become a sponsor, you will:
Partner with a Registered Charity, known as a Lead Sponsor – read more here
Form a strong, committed group of people – we recommend about 8-12 people
Raise £9,000 – the family are entitled to social welfare payments, so you are not responsible for their day-to-day costs. This money is to cover additional expenses, like translators, furnishing the house, and rent deposits.
Get permission to apply from your Local Authority
Send your application form to the Home Office. The form is like a resettlement plan, where you will explain how you will help the family find work, learn English and register with local services.
Find an affordable house for the family to rent, available for a minimum of 2 years
Once you have everything in place, and have been approved by the Home Office, you will be matched with a refugee family who have been prioritised because of their urgent need for resettlement.
You will welcome the family at the airport and bring them to their new home. You will then support the family for one year, by building the knowledge and the confidence they need to live independently. You will help them to:
Register with Local services, such as GPs, schools, dentists and banks
Sign up for Universal Credit
Attend English classes and have conversation practice
Find work and volunteering opportunities
Access community groups, places of worship, and other opportunities for social connection
Navigate the local community, and understand British culture and customs
Set and achieve their goals
Become independent
You are formally responsible for supporting the family for one year, and ensuring they have housing available to rent for two years. Hopefully, you will have empowered the family to be self-sufficient, and have the skills and knowledge to live independently.
But it is rarely a clear-cut break – we hope that you will have built relationships that last a life-time, and transition from being formal volunteers to friends & neighbours.
There is one final thing you are responsible for: housing solutions after the two years. Often the best outcome is to extend their tenancy after this time - but the family may want or need to move home. You are not obligated to find a new home, but you should support them through this process.