Sharing in the Joy of a Big Birthday for a Little Girl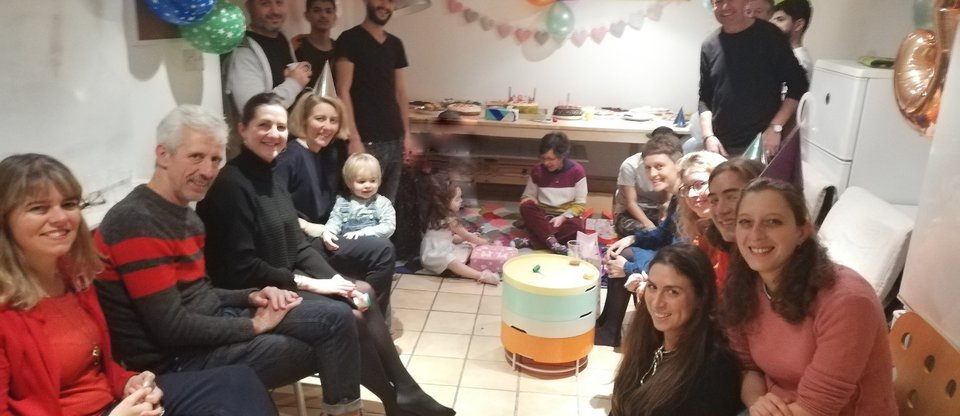 Blog from Tim Finch
One of the treats of being in a Community Sponsorship group is sharing significant moments with the refugee family the group has welcomed. Groups around the country have been included in many joyous events such as new babies being born, exams being passed and jobs secured.
In my own group in Peckham, the youngest member of the Al Shaabin family – little Celen – recently celebrated her 3 rd birthday. She is the daughter of parents Mohammed and Duaa, who share the house with Mohammed's parents, and Celen's grandparents, Hasan and Khiloud. Mohammed's three brothers, Lutfi, Eslam and Zaen also live in the house.
It was clear weeks ahead of the big day that Mohammed and Duaa wanted to mark this birthday in a special way. For Celen's 2 nd birthday, in November 2018, the whole family were living in a precarious and dangerous situation in Jordan, hoping they would soon be resettled, but with little to celebrate. Spool forward a year, and they, their family and their young daughter, were living in safety and security in South East London, facing many difficulties yes, but with hope for the future.
The Al Shaabins made clear they wanted their new friends from Peckham Sponsors Refugees to join them on the day – and so a party was planned. As ever, the women put on a great spread, of Syrian specialities, homemade pizzas, and above all birthday cakes. And Mohammed and his brothers went to enormous efforts to decorate the house with banners, and balloons.
Mohammed had told me that although he had little spare cash he wanted to buy his daughter a special gift – a trampoline. This is because Celen loves to bounce, and was constantly jumping up and down on the beds and sofa.
With some help from the group, a reasonably priced trampoline suitable for a toddler was found and purchased. And fortunately, a handy volunteer, Guy, had the skills and the patience to assemble the trampoline with Mohammed so that it was ready for the party. Warning: trampoline assembly is fiendishly difficult.
It was a joyful afternoon and evening, with lots of comings and goings. As well as the adult members of Peckham Sponsors, Celen had some guests nearer her own age – including her best friend, little Sam, who loves bouncing too.
This short homespun video captures I hope the spirit of that day and why Community Sponsorship of refugees is so special: